When 20-year-old Lue Cree Overcash Westmoreland retired for the evening at the home of her husband's family on Jan. 19, 1937, no one expected the young bride of only two months would be murdered by the next morning.
Lue Cree's husband, Herman Westmoreland, lived in an apartment during the week so he could be close to his job at Cascade Mills in Mooresville. Lue Cree was staying at the family home in the Amity Hill area of Iredell County. According to an article that ran in the Statesville Record & Landmark, members of the Westmoreland family went to call Lue Cree for breakfast the next morning and noticed she wasn't in her bedroom. Her watch and ring were found on a table in the room and the clothes she had worn the day before were draped on a chair next to the bed. Alarmed, the family reported her missing.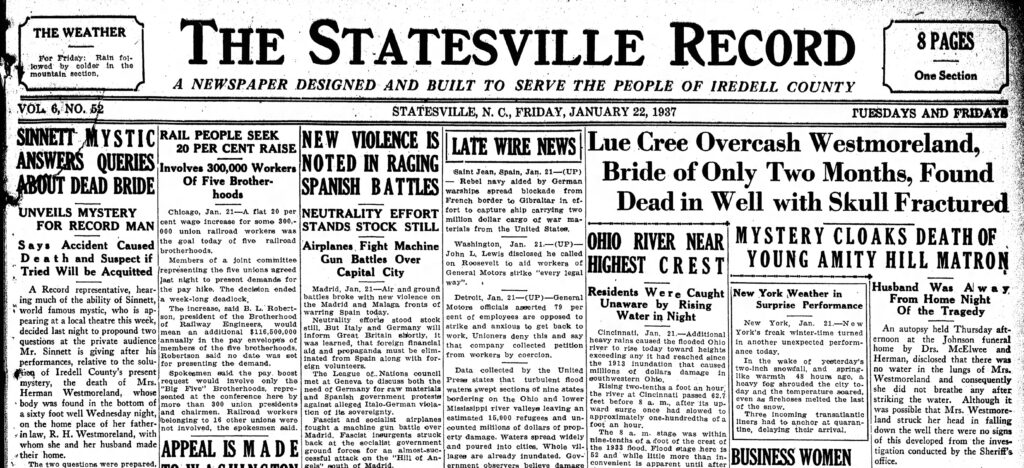 Local historian Chris Stonestreet, who also teaches history at Mooresville High School and at CPCC, has studied this case extensively over the years. He also wrote an article about it for The Mooresville Tribune in 2008. He says volunteers quickly gathered in the area to search for Lue Cree, when someone noticed a mule on the property was refusing to drink from a well. Lue Cree's body was found face down in the well, dressed in her silk pajamas from the night before. She wore one patent leather shoe and had a triangular indentation on the back of her head. The well was only about 50 feet from the home. Although all the members of the Westmoreland family, including Herman's father, two younger sisters, and 17-year-old brother were all questioned, no one claimed knowledge of the murder nor said they heard anything amiss the evening before. An autopsy determined Lue Cree was already dead when she went into the well.
Stonestreet says the case was worked as vigorously as it could have been for the times, no leads were uncovered, and the Overcash and Westmoreland families were unable to find closure. However, after Stonestreet's original revisiting the case ran in 2008, he received a copy of a poem a niece in the Westmoreland family found in a cedar chest in an attic. The author of the poem, titled "A Voice from the Grave," is unknown, but the details were chilling. Below is an excerpt:
I wonder why no arrest was made,
Was your sheriff so afraid?
Is his back bone [sic] of the hue?
Applied to jealousy and cowardice to?
Oh men, hang not your heads in shame,
Rise up, make your county worth its name.
Chris Stonestreet can be reached at the following e-mail address: [email protected]