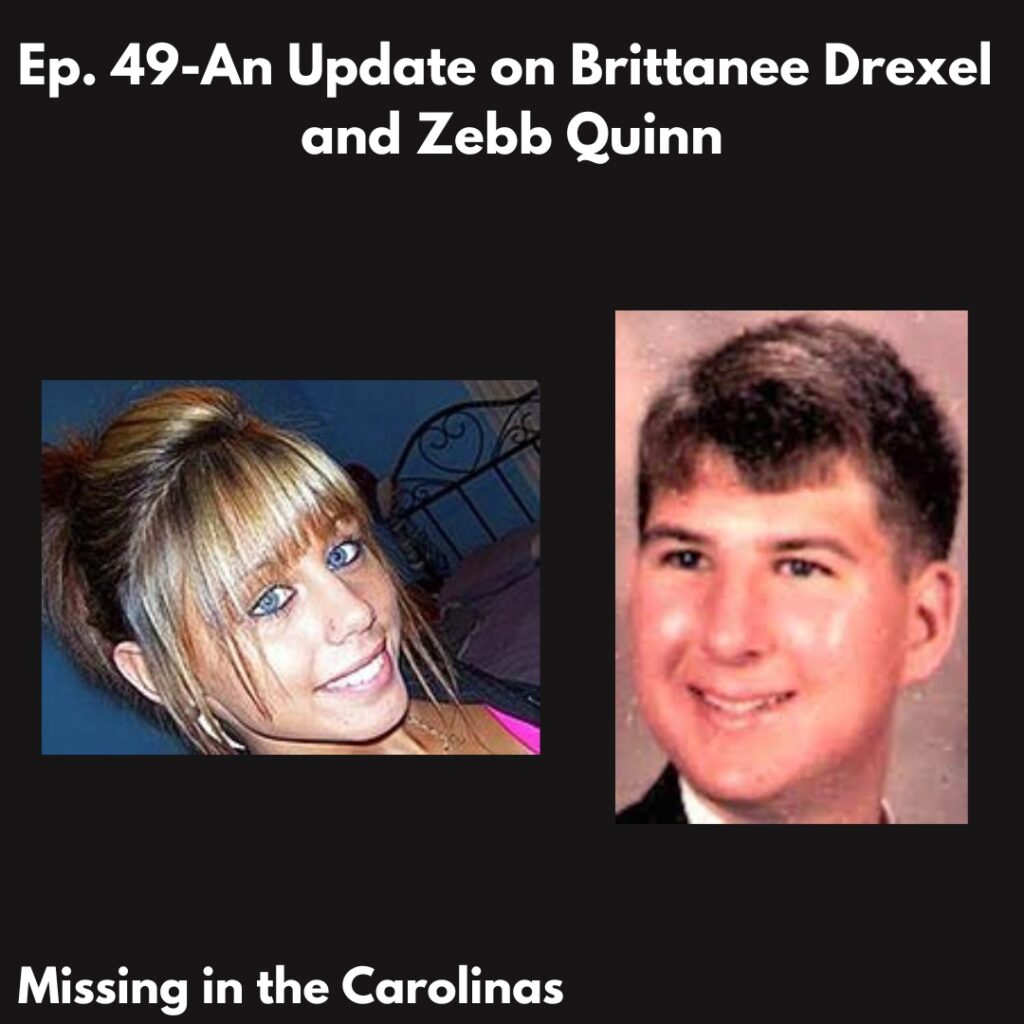 Brittanee Drexel's story reached its final conclusion this past summer, and it left many who had been following it quite surprised.
On May 16, 2022, the Georgetown County Sheriff's Office held a press conference where they announced they had uncovered the remains of Brittanee Drexel in a wooded area on the outskirts of Georgetown County. Dental records confirmed her identity. They announced that Raymond Moody (age) had been charged with murder, kidnapping, and criminal sexual conduct. Her cause of death appeared to be strangulation.
Raymond Moody is a known sex offender with a disturbing criminal background—he had served about half of a 40-year-sentence beginning in 1983 on convictions for criminal sexual conduct with minors in California.
Back in August of 2011, the authorities had spent nearly four hours searching a room at the Sunset Lodge in Georgetown County. They had served the lodge with a search warrant so they could look for evidence in Brittanee's case. At the time, the police did not share any additional details as to why they had decided to search that particular location. We now know the room had belonged to Raymond Moody.
At this past summer's press confererence, Georgetown County Sheriff Carter Weaver had this to say:
"Where did it happen? How did it happen? And why did it happen? The 'why' may never be known or understood. But today, this task force can confidently and without hesitation answer the rest of those questions, along with the who is responsible."
According to WCIV, the Georgetown County sheriff said they had received a major tip in 2011 from a family member, suggesting they take a look into Moody because of his criminal history serving time for raping underage girls. This was why they were searching the motel he had been staying at, and they also interviewed his girlfriend at the time, a woman named Angel Vause, but they couldn't find any concrete evidence linking him to Brittanee's disappearance.
The FBI eventually realized their lead about Timothy Taylor wasn't viable, so they started from square one. They looked at cell phone data, and determined that Brittanee had gone from walking to moving at 55 miles per hour around 9:06 p.m. on April 25, 2009. She arrived in Georgetown by 10 p.m. Looking at video surveillance, they noticed that Moody's Ford Explorer was the only vehicle that passed where Brittanee was walking at that time. When they questioned Moody, he said he and Angel had been in the car and they asked Brittanee if she wanted to smoke marijuana with them at their camp.
After arriving in Georgetown, he said Angel Vause had left, and this is when Moody sexually assaulted Brittanee and strangled her, because he knew he would go back to prison if she reported him. He said he lied to Vause about Brittanee leaving unharmed. He later went back to the location of where he had left Brittanee and buried her body. No one knows for sure if Raymond Moody was lying about any part of this story, but Brittanee's mother says her daughter may have simply thought she was accepting a ride up the street to where her hotel was.
As if this conclusion to Brittanee's case wasn't disturbing enough, I found even more unsettling information when I did a search of Raymond Moody's name in the Myrtle Beach newspaper archives. On June 21, 2004, the Myrtle Beach Sun-News published an article titled "Sex offender causes stir with move to Strand." The article was about none other than Raymond Douglas Moody. Some of the residents from the Kensington neighborhood of Georgetown expressed concerns about Moody living with his parents in their home. At the time, he had moved to the area after being released from prison in California. He had registered his name with the Sheriff's Office and was being electronically monitored by the South Carolina Office of Probation and Parole. The residents were doubly concerned because the Moody home was located near a daycare, an elementary school, and several churches. Moody told the newspaper at the time, "They have a bracelet on my ankle and a monitor in the house. The only time that I leave the house is for counseling and to see my parole officer. I just want a chance to live my life." The Georgetown County Assistant Sheriff Carter Weaver told the newspaper, "It is our understanding that Moody has met all of his requirements as prescribed by law."
The president of the Kensington Community Association at the time said, "I can look out the window and look at his house. I know his mama and daddy real well. I've got children; if they did something wrong, I would still have my house open to them." An article that ran a few months later, in September of 2004, said that Moody was no longer classified as a sexual predator, but remained under strict electronic monitoring as a high-risk sexual offender. The article mentioned he had moved from his parents' home in the Kensington community of Georgetown. It explained that Moody could not be classified as a predator because his crimes were committed before 1986.
The Violent Sexual Predator Law wasn't formed until the mid-1980s, a spokesman for the California Board of Prison Terms told the reporter. The article also noted that Moody was not allowed to live alone, and that his parents were required to remain with him if he left the house. It also mentioned he was living in an industrialized area, away from other houses, but I couldn't clarify who he was supposed to have been living with at that time. His California prison record noted Moody was convicted of one count of sodomy on a child younger than 14, three counts of rape, two counts of lewd behavior on a child younger than 14, and one count of assault with intent to commit mayhem.
After coming across these articles, it was easy to see why the Sheriff's Department had suspected Moody could be involved in Brittanee's disappearance. She went missing in 2009, only five years after Moody had first arrived in the Myrtle Beach area, and his arrival had drawn the fear of area residents so much that newspaper articles were published. Unfortunately, it looks like those residents were right to be fearful of what Moody was capable of.
Raymond Moody pleaded guilty to all charges and was convicted to 30 years each concurrently for rape and kidnapping, and life for murder.
Zebb Quinn
The mystery surrounding 18-year-old Zebb Quinn's disappearance from Asheville, North Carolina back in 2000 came to a bittersweet conclusion this past summer. This case has always haunted me, so it was one of the first ones I covered on this podcast in Episode 2.
Robert Jason Owens struck a plea deal with prosecutors in Buncombe County on July 25, 2022. In his plea, Owens said he did not kill Quinn, but instead assisted the killer after his death. A Buncombe County Superior Judge accepted the plea deal and sentenced him to 150-189 months for the Class C Felony. He will serve this 13-16-year term at the same time as the life sentence he is currently serving for the murders of Cristie and Joseph Codd in 2015.
In the hearing, Owens' defense attorneys said that it was his uncle, Walter Gene Owens, who had convinced Jason to lure Zebb into the Pisgah National Forest to meet with a woman Zebb was interested in. But the woman, Misty Taylor, who Zebb's mother mentioned in the an episode of the TV show "Disappeared," was not at the location. Walter had supposedly been hired by Misty's boyfriend to kill Zebb.
In 2017, Jason first shared this complicated story to his attorneys. He said his uncle was the actual killer, but Gene Owens died in 2017 of cardiac arrest, later that year. He said Zebb had been murdered, by his uncle, in the forest, and then his uncle cut up and burned the body. But in March of 2015, investigators took a search warrant to Gene Owens' property, where a "family member" had said he'd seen Jason filling in a fish pond with concrete right around the time Zebb went missing. Scraps of fabric, hard fragments, and leather materials were discovered and collected for evidence. But in a twist, it was Gene Owens who had reported the tip on his own nephew. It seems more than a little convenient that once Gene had passed away, Jason pointed the finger directly at his uncle and attempted to diminish his role in Zebb's alleged murder.
Prosecutors agreed to the plea, although they were skeptical of the story. Zebb had originally told his mother he was going to look at a car after his shift ended at a local Wal-Mart on the night of January 2, 2000, and that Jason would be going with him.
Here is what Assistant District Attorney Jeremy Ingle said about the plea deal:
"Based on the evidence available, the lack of evidence of motive, cause of death, spoilation of evidence based on a decades-long pause in critical leads in the case, a conviction of first-degree murder at trial—thought never a certainty—would present a steep challenge considering all these factors."
In other words, it seemed that the prosecutors were afraid if they took the case to trial with the evidence, or lack of evidence they actually possessed, a jury might find reasonable doubt in the case.
Support the Show!
Show Sources:
https://abcnews.go.com/US/darkest-night-13-year-long-investigation-murder-missing/story?id=91383422#:~:text=Brittanee%20was%20last%20seen%20leaving,were%20found%20in%20May%202022.
https://www.wsoctv.com/news/local/report-sc-sex-offender-accused-murdering-brittanee-drexel-appear-court/ZHB5WSMATBE4HIXMRTNWAPYS5Y/
"Convicted sex offender seeks home"
https://www.newspapers.com/image/822720440
"Rapist not classified as 'sexual predator'"