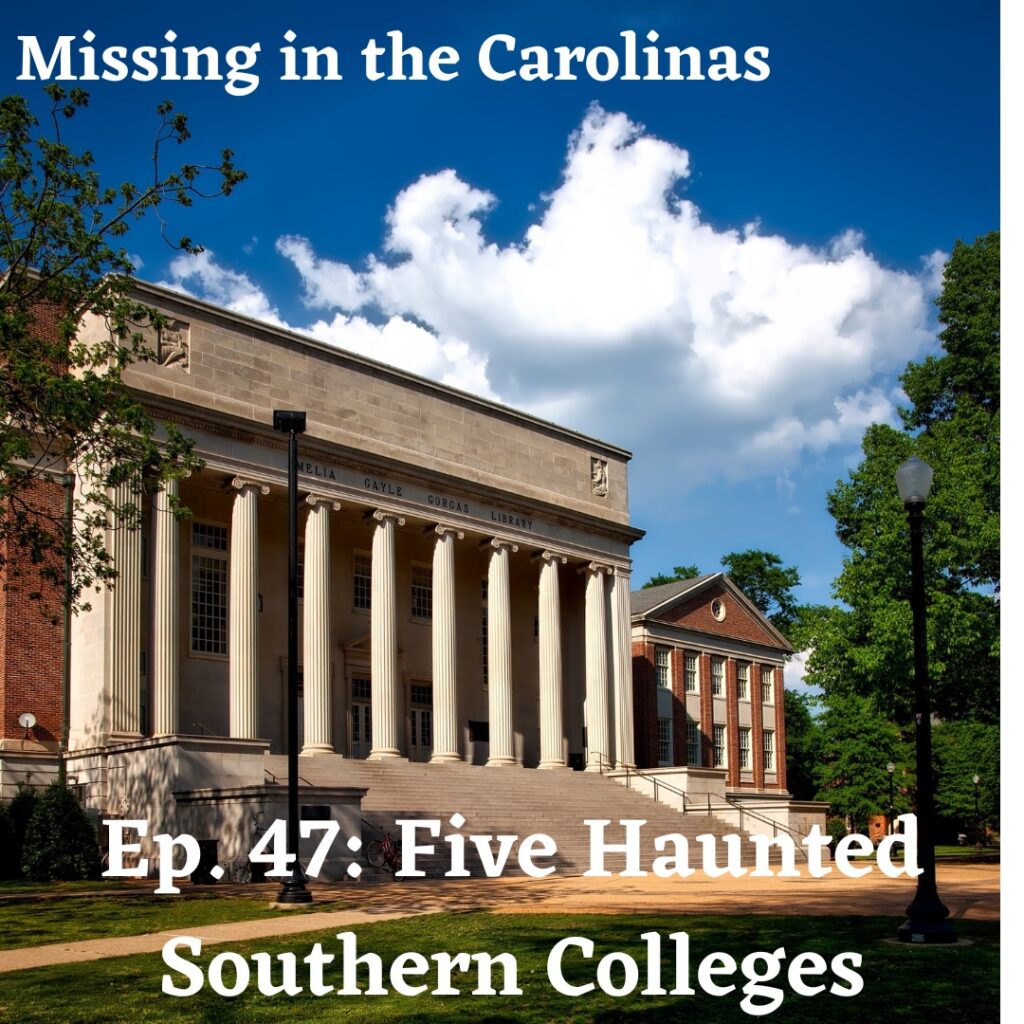 Benevolent spirits that watch over university libraries and academic buildings. Specters looking for their lost loves. Motherly figures still caring for the students navigating new journeys away from their childhood homes. Lost souls who regret ending their lives too soon. A mysterious creature who roams a historic college campus. And even a fraternity house that remains forever linked to a serial killer. These are stories shared on several southern college campuses each year. How true are they?
In an article that ran in The Knoxville News-Sentinel in October of 2012, University of Tennessee professor Steve Sparks shared some of his observations on contemporary myths and urban legends that often exist on college campuses. He said, "They teach us a story. They usually occur during times of cultural and societal shifts that people are uncomfortable with. And they generally tend to be a throwback to the tradition and not toward the shift."
An article that ran on the Penn State website quoted Matt Swayne, a lecturer at the university's College of Communications and author of "America's Haunted Universities: Ghosts that Roam Hallowed Halls." He had this to say: Many young people are living on college campuses and these can be some of the best settings for spooky tales. Typically, there are large, old buildings and sites with lots of history being visited by a bunch of smart, creative students. It doesn't take much to imagine a ghost walking some of these corridors." He also pointed out that one role of ghost stories is to help create a sense of community among the populations of students who have all arrived from different places, both geographically and emotionally. Swayne also said ghost stories can pass on historical information and offer warnings about real threats facing college students.
I used Daniel Barefoot's book "Haunted Halls of Ivy: Ghosts of Southern Colleges and Universities" as a starting point for my research, then searched out newspaper archives in the corresponding states to supplement the anecdotes I found.
The University of Alabama
It's not surprising that the University of Alabama is known to be haunted by ghostly apparitions from the Civil War, since most of the original campus was destroyed during the battle. But for this podcast, I want to focus on a few known ghosts on campus of a more friendly nature—they simply seem to be keeping a watchful eye over the university they once devoted their lives and work to.
The name Gorgas is well-known around the university. At the center of the campus is the Gorgas House, which was built in 1829. It now serves as a museum, but Josiah Gorgas, a renowned Confederate general who also served briefly as the president of the University of Alabama, once lived there with his family. Josiah was originally from Pennsylvania but volunteered to serve in the Confederate Army after graduating from West Point. His marriage to Alabama native Amelia Gayle Gorgas influenced that decision. Under Jefferson Davis, Gorgas served as the chief of ordnance of the Confederacy. After the war, he took the position of president of the University of the South in Tennessee, and then joined the University of Alabama in 1878. However, he had a stroke six months after assuming the position and he was unable to continue in that role. The trustees of the college appointed hi the university librarian and gave him use of the residence that now bears his name.
According to Daniel Barefoot, visitors and employees at the Gorgas House have reported hearing footsteps walking up and down the stairs of the house when no one is on the staircase. There are also sounds of a sword banging against the wall of the building. Josiah's wife, Amelia, supposedly also maintains a friendly presence on campus. She had assumed the role of university librarian after Josiah died in 1893, and she spent 20 years increasing the library's collection which had been destroyed during the fire in April of 1865. In 1937, the university named the new library in honor of Amelia. The library's elevators are programmed so that they will not stop on the special collections division on the fourth floor. But there have been employees on that floor who watch as the elevator door opens, showing only an empty car. Then the elevator will close and begin moving again between floors. They believe it's the spirit of Amelia Gorgas, keeping watch over the collection she so lovingly built and maintained for many years.
I felt a strong connection to the next story I want to share, because I know that writers often feel the weight of the world on them. Such is the case with an upcoming book or article release where you know the topic is sure to stir up some controversy. Many think this is what caused 37-year-old Professor Clarence Cason to take his own life in his office in Reese Phifer Hall on May 7, 1935. Clarence was a native to Alabama and had graduated from Talladega High School before attending the University of Alabama, studying journalism. After graduation, he volunteered his service for World War 1 and worked as an aerial machine gunnery instructor. Once he completed his military service, he spent time at several different newspapers, working as a journalist, even corresponding for the New York Times.
He returned to the university in 1928, excited to teach all he had learned in the field to his students, and was named as the first head of the school's journalism department. On the day of his death, his wife Louise began to worry when he didn't return home after his classes. She finally asked two family friends to accompany her to campus around 11 p.m. that night, where they found Clarence slumped over his desk with a pistol nearby. There was no suicide note or any other evidence of what Clarence's state of mind was that day. Some speculated that he was anxious about a book he was about to release, titled "90 Degrees in the Shade," which contained some criticisms of race relations in the south.
At the time, University President George H. Denny made this public statement: "We can assign no other reason for Professor Cason's action than ill health and depression. While at the University, he had done excellent service and the institution suffers a real loss."
The day after Clarence Cason was laid to rest in his wife's family plot in Illinois, the University of North Carolina Press released "90 Degrees in the Shade."
This is what reporter James Saxon Childers had to say in a review published in the May 19th, 1935 edition of The Birmingham News:
"Congratulations to the University of Alabama! And to the whole state of Alabama! We are indeed fortunate that there is teaching at Tuscaloosa a man capable of writing so fine a book as "90 Degrees in the Shade," a book filled with quiet wisdom and a gentle love for the South and for Southern men and women.
Clarence Cason, head of the department of journalism at the university, has allowed us in his book to go into his study with him, and sit for an evening and discuss Southern politics, farming, industrialism, climate, traditions, and dreams. Intellectually and spiritually it will be an invigorating evening; and we'll rise from it with a new understanding of our Southland, and with a sincere respect for Mr. Cason and his thinking."
You'll notice that James Saxon Childers is referring to Clarence in the article as if he is still alive. There was a footnote to the article that how he had sat with Clarence, who also went by the nickname Chico, just a few weeks before the book's release. The reporter had visited Clarence at his house while they discussed the review copy of the book. This is what the footnote of the article said:
Friday, May 3, a review copy of Clarence Cason's book "90 Degrees in the Shade," was delivered to my desk. That meant a stopping of all other work until the book had been read; then a long distance call to Chico himself, and many congratulations, and an engagement for the next afternoon at his home in Tuscaloosa.
I went down and we talked the afternoon away and the evening: and it was a good talk the kind a man remembers. Chico was telling of his early years here in Alabama, and of his dreams and hope for Alabama and the South.
Then I came back to Birmingham and wrote a story about Chico and his book. That story I was planning to give to the printers at The News Wednesday morning. It was early Wednesday morning that a friend telephoned to my home to say that during the night before, Chico had written the final chapter in that other Book he had been writing for 37 years.
Then, after things began to focus again, we men here at The News talked of what should be done about the story; and it was decided to print it just as it was written, to make no changes, but let it stand as an indication of our feeling about this book and, even more about the man with whom we had worked and whom, long ago, we learned to honor and sincerely to love.
Did Clarence Cason, a.k.a. Chico, love journalism so much that he decided to remain behind and keep a watch over his beloved students and faculty at Reese Phifer Hall? There are some that speculate he did. Students have reported hearing whistling in the halls late at night when no one else is around. An associate professor in the Department of Journalism and Creative Media named Dianne Bragg was in the building early one Sunday morning reported to hear a door to the copy room next door open and shut, and the copy machine start. When she went to greet the person there was no one there. She admitted she was struggling with personal issues along with the final steps of completing a large project. Instead of feeling a sense of foreboding, she felt a sense of comfort, as if someone was there giving her moral support during a difficult time. She feels Clarence is a guardian spirit keeping watch over anyone in the building who is struggling.
Henderson State University and Ouachita Baptist University
Many ghostly tales include stories of ladies in various colors of clothing, from pink, to white, to red, to black. I wanted to include this tale because it features homecoming, which normally a time of celebration on college campuses. But at Henderson State University, it is a time to be wary, especially if you live in the women's dorms.
Ouachita Baptist is the oldest of the two colleges, having opened its doors in 1886. Henderson State, which is affiliated with the Methodist Church, became a public university in 1929. It was known then as Henderson-Brown College. Based on various reports, The Lady in Black story begins in the 1920s, when a young man named Joshua enrolled at Ouachita. He was ambitious and driven—he knew he wanted to study to become an attorney and ultimately hold a seat on the United States Supreme Court. When he met a woman named Jane, a student at Henderson, he was enthralled. However, the two couldn't have been more different—she was artistic and had dreams of becoming a novelist. Edgar Allen Poe was one of her favorite authors. His friends tried to discourage the relationship, as Jane went to a rival school and seemed an odd match for the studious and straight-laced Joshua. Here is where various versions of the story emerge. One story says that Joshua tried to break up with Jane but agreed to go to take her to the Homecoming Dance at Henderson. Another says that she sought him out on Homecoming with hopes of reconciling. Joshua instead fell in love with another female student. When Jane discovered this, she was so heartbroken she jumped from an area called DeSoto Bluff into the Ouachita River.
Now students are warned that on Homecoming Weekend each year, Jane, also known as The Lady in Black, searches for the girl who came between her and Joshua. She likes to frequent Smith and Womack Halls in particular. The campus embraces this story and shares it with the freshman class each year in the annual "Pine Tree Speech."
Henderson State historian David Sesser discussed the origin of this legend in an article called "Lady in Black Still said to Haunt Halls at HSU" in the Arkansas Democrat and Gazette. He said there was a student named Nell Page who attended the university around 1910. The night before they would play OBU in football, she would walk up and down the halls of the dorm, wearing either a white or black robe. A white robe signified HSU would lose, while a black robe predicted victory. At the time she was the only female student living on campus. She did die at a young age, 27, but it was from tuberculosis and not a suicide. Sesser has not been able to find evidence of anyone taking her own life at DeSoto Bluff.
Florida State University
Located in Tallahassee, Florida, Florida State University boasts a large and active campus with more than 33,000 current students. The campus is known to have several different ghosts, including one who seems to be watching out for the female students. Her name was Sarah Landrum Cawthon, also known as "Tissie," and she served as an adviser for students in 1910 when the college was still known as Florida State College for Women. She enjoyed her role as a housemother for the girls, advising them in their academic pursuits and lifestyle choices, and rumor has it she was not on board with the societal changes that came with the Roaring Twenties. She received a building in her own name in the late 1940s, Cawthon Hall. This was around the same time men became admitted to the university.
In "Haunted Halls of Ivy," Daniel Barefoot writes that there are some that believe that Tissie still keeps a watchful eye over the dorm, as lights often turn off and on by themselves and doors slam shut without explanation. Cawthon Hall is also said to be haunted by a student who was killed in a tragic accident not long after the dorm was completed. She was sunbathing on a roof when a sudden thunderstorm rolled in, and she was trapped with all the doors and windows leading back inside closed. She tapped on the windows and doors but there was no one to let the student back inside and she was killed by a lightning strike. Students who live on the top floor of the dorm claim to occasionally hear someone pounding on the windows, crying and screaming.
You may also recognize the name of Florida State University because it is the school where infamous serial killer Ted Bundy went on a horrific murderous rampage on January 15, 1978 at the Chi Omega sorority house near the campus. He broke into the house and murdered two of the female residents and seriously injuring two others. Although he is known to have had victims in Washington, Oregon, Colorado, and Utah, it was this incident that sent him to Florida's death row, and he died in the electric chair on January 24, 1989. While hiding out in Florida a few weeks before the Chi Omega murders, Ted Bundy had hidden in an old home on College Avenue called "The Oak," which references a millennium-old tree in the front yard. This home was a boarding house before being converted into a fraternity house for Phi Delta Theta. A few weeks after he was executed, several women passing by The Oak reported a shadowy figure who resembled the serial killer standing on the front porch. Then he seemingly disappeared from view. Other people have reported seeing the same figure on the grounds of the property.
University of Tennessee
There's a mysterious creature that dwells in or around the heart of the University of Tennessee campus in Knoxville, specifically the area called "The Hill," near Ayres Hall. Witnesses have described the creature as canine, others think it looks more feline. It has coal-black eyes and stands on its hind legs. Writer Alan Brown shared a story of a female student who looked out her apartment window near campus and saw a human size, cat-like being walking on its hind legs" in his book "Haunted Tennessee." Brown called this creature a wampus cat and pointed to a Cherokee legend where a young woman with a desire to hunt with the men cloaked herself in a mountain lion skin and followed them secretly. During the hunt, she accidentally bumped into a tree branch, made a noise, and was discovered by the hunting party. The men consulted with a shaman and bound the woman to a lion skin forever as punishment. It's also been referred to as a "barghest," which is Northern English folklore depicting a spectral hound. Seeing this creature is supposedly an omen of death.
Hoskins Library, which was built in 1931, is also known to be the home of at least two spirits. One is William Jesse, former director of the library, who reportedly took his own life. Staff and students gone on record as seeing an apparition in the archives section, where William Jesse spent most of his time. A ghost called Evening Primrose brings smells of beef stew and cornbread, and also plays with the library's elevators and shelved books. The university has stated that Evening Primrose could be the spirit of a graduate student who secretly lived and possibly died in the library while researching her dissertation.
The University of Georgia
You'll notice a common thread in these stories are spirits of people who don't want to leave their beloved universities behind. The University of Georgia, located in Athens, recognizes a man named Robert Toombs as one of these types of ghosts.
Robert Toombs is known in the state of Georgia as one of those larger-than-life personalities who was energetic, quick-witted, and charming. He eventually went on to find success as a lawyer, legislator, congressman, and U.S. senator. He originally attended the University of Georgia in the 1820s but was expelled during his senior year for excessive drinking and gambling. Robert decided not to go so quietly and returned on graduation day to hold court under a large oak tree in front of the UGA chapel. There he gave a speech that was reportedly so compelling he drew the crowd away from the graduation ceremony being held in Demosthenian Hall. Campus legend now claims that that oak tree was struck by lightning at the exact moment of Toombs' death on December 15, 1885.
The tree was taken down in 1908, but some of that stump was used to fashion a lectern and platform from which "stump" speeches are still given on the second floor of Demosthenian Hall. Students in the Demosthenian Society have reported feeling Toombs' presence in the hall, which was built in 1824. They've heard the sounds of footsteps on the second floor chamber when it is supposed to be unoccupied, and the sound of phantom boots can be heard on the staircase. Other people passing the building claim to have heard speeches coming from the building when it is unoccupied, or have seen a pale white face peering out from a window of the hall.
Joe Brown Hall is said to be haunted by the ghost of a student who took his own life when the building was still a residence hall. Tragically, he died during a school break, so it was some time before his body was discovered. Afterwards, building residents began to complain of a smell of decomposition, and bloodstains that had been cleaned and removed began reappearing. After some time, the university officials decided to convert Joe Brown Hall into an office space. A stairway that led to the room where the suicide occurred was blocked off. But now, professors and students said they heard knocking sounds coming from the sealed room, along with various cold spots on the stairway.
Show Resources:
https://www.redandblack.com/culture/the-haunted-halls-of-uga-spookiest-spots-on-campus/article_af61fec0-d727-11e8-9608-bb1bcb546196.html
https://hsuoracle.com/4334/news/legend-of-the-lady-in-black/
https://patch.com/alabama/tuscaloosa/tragic-death-enduring-legacy-clarence-cason
https://www.arkansasonline.com/news/2021/nov/01/lady-in-black-still-said-to-haunt-halls-at-hsu/
https://www.psu.edu/news/research/story/probing-question-why-do-so-many-college-campuses-have-ghost-legends/